Asus on julkistanut täyden laidallisen tietoa uusimmasta Eee Pad Transformer Prime tablet-hybridistään. Viisi prosessoriydintä ja parannellun Super IPS+ -näytön yhdistävä hyvin ohut ja elegantti voimanpesä saapuu maahan joulukuussa. Lisää katkon jälkeen.
Kuten aiemmissa uutisissa on jo todettu, niin suorana päivityksenä vanhalle Transformerille saapuva laite pitää sisällään NVIDIA:n uuden sukupolven, "Kal-El"-koodinimellä liikkuvan, Tegra 3 -järjestelmäpiirin. Sen sydämenä on neljä 1,3 GHz kellotaajuudella (yksittäisen ytimen maksimi 1.4 Ghz) pyörivää pääydintä pitävät ohjelmat ja pelit sutjakkaina ja kumppanina toimiva 500 MHz talonmies-ydin hoitaa perusaskareet, kuten työpöytien sekä taustaohjelmien pyörittämisen. Vain neljä ydintä voi olla samaan aikaan aktiivisena, joten se siirtyy täysin taustalle pääytimien käynnistyessä tehontarpeen myötä ja palaa takaisin aktiiviseksi, kun pääytimille ei ole enää tarvetta. Ylimääräisen ytimen avulla säästetään myös huomattavasti virtaa ja osaltaan se mahdollistaa Asuksen ilmoittaman huiman 12 tunnin akunkeston ilman näppäimistötelakkaa ja 18 h sen kanssa.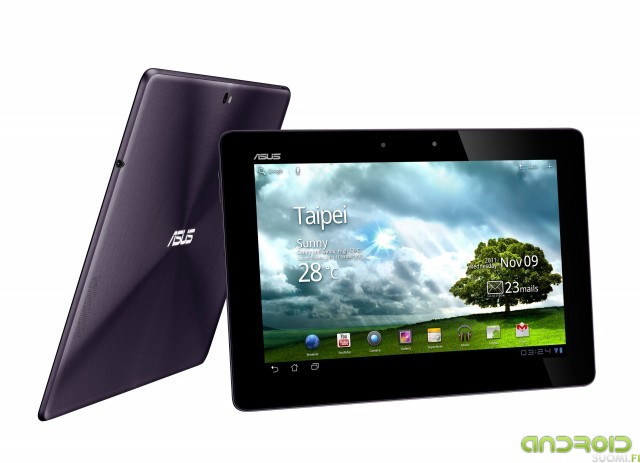 Vain 586 g painava tablettiosa lähentelee jopa Samsung Galaxy Tab:n painoa, ja ohuudessa Transformer Prime menee kilpailijoiden ohi sen ollessa paksuudeltaan vain 8,3 mm.Vanhan Transformerin painosta on siis höylätty 94 g pois ja paksuudesta 4,68 mm. Näppäimistötelakka lisää paksuutta 10,4 mm sekä painoa 537 g, mutta tarjoaa jo tutut lisukkeet eli kosketuslaatan, 22 Wh lisäakun, USB 2.0 -portin, SD-kortinlukijan. Tabletti itsessään on varustettu 1,2 megapikselin videopuhelukameralla sekä 8 megapikselin kameralla jossa on taustavalaistun CMOS-kennon lisäksi nyt myös LED-salama sekä 1080p FullHD-videotaltiointiominaisuudet. Liitäntäosastolta laitteesta löytyy Asuksen oman lataus- ja telakointiliittimen lisäksi 3,5 mm kuulokeliitin ja mikroHDMI-liitin (v1.4) sekä mikroSD-kortinlukija.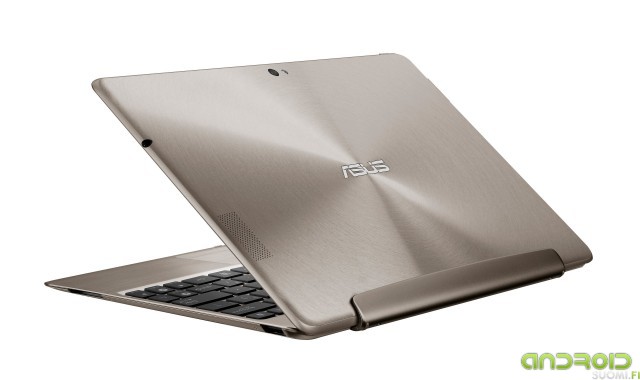 Uusimpien tietojen mukaan vanhan Transformerin näppäimistötelakka ei ole yhteensopiva uuden kanssa, joka on todella harmillista. Prime tulee tarjolle kahdessa eri kuosissa, ametistinharmaana sekä samppanjan sävyisenä. Yksi tärkeimmistä ominaisuuksista, eli Android 4.0 -päivitys, saapunee laitteelle viimeistään vuoden alussa, tarkan päivitysajankohdan Asus on luvannut ilmoittaa joulukuun alussa. 3G-mallin saatavuus on myös vielä hämärän peitossa.
Jäämme odottelemaan arvosteluyksilön saapumista. Sillä välin alla hieman vertailua vanhan Transformerin ja Transformer Primen välillä:
| | | |
| --- | --- | --- |
| | Asus Eee Pad Transformer TF101 | Asus Eee Pad Transformer Prime |
| Mitat (pad/telakka) | 271 x 171 x 12,98 mm / 271 x 185 x 28 mm | 264 x 180,8 x 8,3 mm / 264 x 180,8 x 10,4 mm |
| Paino (pad/telakka) | 680 g / 640 g | 586 g / 537 g |
| Näyttö | 10,1″ IPS / 1280×800 | 10,1″ Super IPS+ / 1280×800 / Gorilla Glass |
| Järjestelmäpiiri | NVIDIA Tegra 2 / 2 ydintä@1GHz | NVIDIA Tegra 3 / 4 ydintä@1,3 GHz (+500 MHz apuydin) |
| Grafiikkaprosessori | NVIDIA GeForce ULP@300 MHz (4 pikselimoottoria, 4 verteksimoottoria) | NVIDIA GeForce ULP@300+ MHz (8pm, 4vm) n. 3x tehoa |
| Keskusmuisti | 1 GB LP DDR2 | 1 GB LP DDR2 |
| Tallennustila | 16/32 GB | 32/64 GB |
| Ilmoitettu akunkesto* (pad/telakoituna) | 8 h (24,4 Wh)/ 16 h (+24,4 Wh) | 12 h (22 Wh) / 18 h (+25 Wh) |
| Käyttöjärjestelmä | Android 3.2 Honeycomb (4.0 päivitettävissä) | Android 3.2 Honeycomb (4.0 päivitettävissä) |
* Akunkesto mitattu toistamalla 720p resoluutioista videota näytön ollessa 60 nits kirkkaudella
Lähde: Asus lehdistötiedote sekä http://www.anandtech.com/show/5073/asus-transformer-prime-detailed-quadcore-tegra-3-tablet
Asuksen lehdistötiedote:
Taipei, Taiwan (November 9, 2011) — ASUS has officially announced the world's first tablet featuring the NVIDIA® Tegra® 3 quad-core processor – the ASUS Eee Pad Transformer Prime. Cooperatively working with NVIDIA® to launch the first quad-core tablet in the world, the Eee Pad Transformer Prime features the innovative ASUS exclusive mobile dock, presenting a harmony of beauty and strength. ASUS CEO Jerry Shen says, "The combination between the Eee Pad Transformer Prime and Tegra 3 is the perfect fusion to deliver an uncompromising tablet experience. Together, we bring a whole new mobile computing experience to consumers around the world". Echoing that sentiment, NVIDIA's President and CEO Jen-Hsun Huang states, "The Eee Pad Transformer Prime is a category-defining product. Powered by Tegra 3, it brings us into a new era of mobile computing, in which quad-core performance and super energy-efficiency provide capabilities never available before. With Transformer Prime, ASUS has once again led the industry into the next generation."
In addition to having superior multimedia performance, the Transformer Prime also boasts an 8.3mm ultra slim metallic spun finish with enhanced features including audio powered by ASUS SonicMaster technology, an 8MP rear auto-focus camera with LED flash and battery life rated for up to 18 hours* when combined with the mobile dock. An official launch event with live demonstration is scheduled for early December when ASUS will unveil what happens when the Eee Pad Transformer Prime meets Ice Cream Sandwich.
 
Incredibly slim
Featuring an incredibly slim form factor, the Transformer Prime is a svelte 8.3mm thin and the only metallic tablet that weighs in at a mere 586g. It brandishes a metallic spun finish design made of aluminum for a secure yet extremely comfortable grip that comes in two gorgeous colors: Amethyst Gray and Champagne Gold.
Ultra performance
The Transformer Prime is the world's first tablet to feature NVIDIA's next-generation quad-core Tegra® 3 processor, creating a new breed of high powered tablet devices. With the quad-core CPU, 12-core GeForce® GPU and vSMP technology, the Transformer Prime delivers the best and fastest experience for tablet based multitasking, web browsing, full HD video playback and of course, games.
Unrivaled visual acuity
The Eee Pad Transformer already boasts a wide 178° viewing angle IPS display, protected by Corning® Gorilla® Glass, but the Transformer Prime goes further, upgraded with a brighter Super IPS+ screen that enhances the brightness of the screen for a better outdoor reading experience. A 1.2MP front camera allows for video conferencing while an 8MP rear camera with auto-focus and LED flash takes brilliant photos thanks to a large F2.4 aperture, back illuminated CMOS sensor, touch-to-focus depth of field and low light noise reduction to provide the clearest and sharpest photos. A first for any tablet, the 8MP camera on the Transformer Prime also has the ability to take full 1080p HD video.
Supreme sound
The Transformer Prime houses impressive audio, powered by ASUS exclusive SonicMaster technology, renowned for crisp and acoustically accurate audio. It produces crystal clear sound with a wide sound range, increased sound fidelity, and distinct vocal enhancements not found on any other tablet in the market.
Unlimited productivity
The Transformer Prime is offered in both a 32GB and 64B model along with a micro SD card slot, 3.5mm combo audio jack and micro HDMI port so sharing both what's inside and on screen is quick and easy. However, the function that gives the Transformer Prime its namesake is the mobile dock, which gives new meaning to the term versatility. The innovative and convenient design seamlessly provides the user with a keyboard and touchpad, along with limitless expandability options via the USB port and SD card slot. Alone, the Transformer Prime has a battery life of up to 12 hours*, but when combined with the mobile dock, it lasts up to an incredible 18 hours*, the longest battery life of any tablet. Preinstalled application SuperNote is fantastic for its ability to take, draw or record notes, while Polaris® Office is great for staying productive with the ability to read and edit Word, Excel and PowerPoint (MS Office 97-2007 version compatible) files.
*Battery life may vary based on usage.
**Pricing will vary by country and SKU.
Specs:
Display
10.1″LED Backlit screen with Super IPS+ (1280 x 800) 10 finger multi-touch, Corning® Gorilla® Glass
Operating System
Android™ 3.2 Honeycomb (Upgradable to Android™ 4.0 Ice Cream Sandwich)
CPU
NVIDIA® Tegra® 3 Quad-core CPU
Memory
LP DDR2 1 GB
Storage
32GB /64GB(1) EMMC + ASUS WebStorage
Wireless
802.11 b/g/n, Bluetooth 2.1+ EDR
Camera
1.2MP (front)/ 8MP Auto-focus (rear) with LED flash, large F2.4 aperture
Interface
PAD: 2-in-1 Audio Jack (Headphone/Mic-in); 1x micro HDMI port; 1x Micro SD Card Reader; 1x Internal Microphone; 1x Stereo Speaker
Mobile Dock:1x USB2.0 port; 1x SD Card Reader
Sensor
G-Sensor, Light Sensor, Gyroscope, E-compass, GPS
Flash support
Yes
Multi-tasking
Yes
Special Apps
ASUS launcher, @Vibe Music, ASUS WebStorage, MyLibrary, MyNet, MyCloud, File manager, ASUS sync, SuperNote, App Locker, App Backup, TegraZone, Polaris® Office
Battery
12hours; 25Wh Li-polymer Battery(2)18 hours pad with dock ; 25Wh(pad) & 22Wh(mobile dock) Li-polymer Battery(2)
Size / Weight
Pad: 263*180.8*8.3mm / 586gMobile Dock: 263*180.8*8~10.4mm / 537g
(1)May vary by SKU and country
(2)Battery life may vary based on usage scenario